Uniform
On regular competition nights children can wear a red T-shirt and black shorts with the registration number sewn on the front of the T-shirt. The age number must be sewn on the front left leg of the shorts or top left side of the top. The Jetstar patch must be sewn on the top right side of the top.
Uniforms are available for purchase on club nights. Prices are as follows:
Crop Tops $25 (sizes 6 to 14)
Hipsters $20 (sizes 6 to 14)
Shorts $15 (sizes 6 to 16, then S,M,L)
Bucket Hats $14 (sizes XS/S, S/M, L/XL) Please be sun-wise and wear a hat - ANY hat!
Singlets 25 (sizes 6 to 18, then S,M,L)
*Please contact Cynthia on
0422 172 751
for any orders
*There are a limited number of second-hand uniforms and spikes at discounted prices also available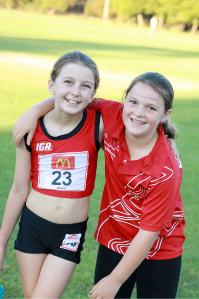 It is compulsory for children competing at championships and carnivals to wear centre uniform:-
These may be hired for the season at a nominal cost.
New competition uniforms can also be purchased. Available mid November, 2015.
Centre number must be displayed on back of top (let registrar know if you are contemplating on competing at carnivals for the centre number).
FOOTWEAR:
Athletes shall wear suitable shoes as foot covering

NO bare feet allowed

7mm Spikes are permitted to be worn by all U11 – U15 athletes.*

Metal spikes are not to be worn in pack start events or High Jump.